This one had me rolling on the floor and enforced my belief that cats are an alien specie sent to earth to torment humans.  There are so many things I can say about this clip but most of those things doesn't belong on this blog.  They were all very funny, just not I-can-post-this-here funny.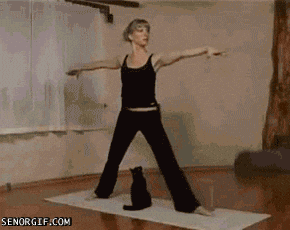 My restraint at a caption is also proof to the Wife that I'm having moderate success at being an adult.  Initially I wanted to let the clip speak for itself but then I got a better idea…
Why not let my readers caption the clip!  In doing so I can giggle away without taking the responsibility of being the person who comes up with a furry, cat-chy line.
So come on people, it's Friday, let your hair down and caption this…